Richie proudly endorses products by



---
Helix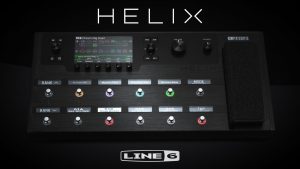 Richie has been using the Line 6 Helix guitar processor since 2016. Check out this video to see exactly how Richie has his Helix setup for Blue Öyster Cult gigs.
Richie has made several of his custom presets available for download.  They can be found at the Line 6 Custom Tone Site.
If you'd like to commission Richie to create custom presets for you, contact him at richie@richiecastellano.com
---
Live Setup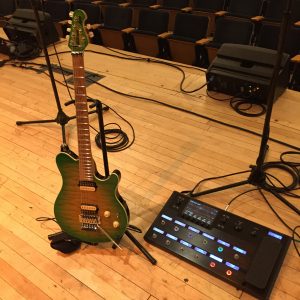 For live gigs, Richie keeps his rig very simple. He brings 2 guitars on the road.  His custom Slime-Burst Music Man Axis and a black Line 6 Variax Standard.
The Variax Standard is equipped with chrome covered DiMarzio pickups including a Tone Zone S in the bridge, a Heavy Blues 2 in the middle and an Injector in the neck. It connects the rest of the rig with a Line 6 VDI cable.
The Music Man Axis is connected with an Audio Technica AEW-4110D wireless which Richie has been using since 2004.
Both guitars are connected to the Line 6 Helix Floor Unit.  In one of the Helix's FX loops is a Digitech Freq-out pedal which is used to get feedback at lower volumes.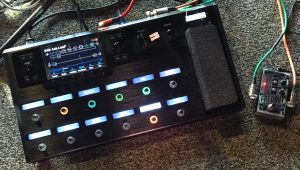 The Helix's 1/4 inch output goes mono to a DI direct to Richie's in ears and Front of House.  The XLR output goes to a powered speaker on stage near the backline for some stage volume.  The Global EQ inside the Helix only affects the stage monitor.
For in-ears, Richie uses the UE-7 from Ultimate Ears.
For microphones, Richie uses the Audio Technica AE-4100 Artist Elite Dynamic Mic.
---
Studio Setup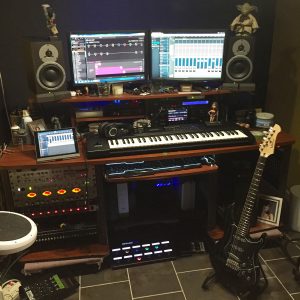 Hardware
At the heart of the Band Geek studio is a MOTU 1248 interface. This not only acts as an audio interface but also a digital mixer that handles up to 8 discrete monitor mixes.  Each Band Geek mixes their own feed via an iOS app.
For Mic Preamps, he uses an SSL Alpha Channel, a Universal Audio 4-710D in addition to several channels of MOTU mic preamps.
Monitorning
For speakers, the Band Geek studio is equipped with a pair of Dynaudio BM-5a powered monitors. The Band Geeks exclusively use Audio Technica M-50 and M-40 headphones. The discrete monitor mix outputs all feed into an 8 channel headphone amp where the mono sends are converted to summed stereo for headphones.
Microphones
The Band Geeks primarily use Audio Technica mics.  Richie's favorite vocal mic is the Audio Techica AT-4033a. Ann Marie's vocal mic is an Audio Technica AT-4047. Aside from the Audio Technica mics, the studio also has a small collection of Neumann, Shure, Electro-Voice and Sennheiser mics.
Software
Richie runs Avid Pro Tools on an Intel Xeon equipped Precision Workstation by Dell, on Windows 10. For processing he uses mostly plugins by Waves and Izotope. For sound libraries, he uses Native Instruments Kontact, IK Multimedia Sampletank, FXpansion BFD and others. For guitar processing he uses Line 6 Helix Native software.
Guitars & Basses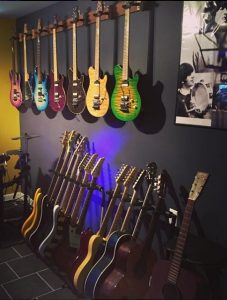 Richie has an extensive collection of guitars and bases.  Here is a list of frequently used studio instruments:
Line 6 Variax JTV-69
Music Man Steve Morse Y2D
Music Man Luke III
Music Man EVH
Music Man Sillhouette Special
Music Man Axis (Tuned to Eb)
Music Man Axis Sport (Red Special configuration with DiMarzio Brian May pickups)
Kramer Pacer (Tuned to D)
Fender Road Worn 50's Telecaster
Fender Road Worn 50's Stratocaster
"The Disgustocaster" (Fernandez Special Edition Strat tuned to Eb)
Gibson Les Paul Tribute Faded
Burns Brian May Red Special
Rickenbacker 325V59
ESP Eric Bloom Model
Eastwood Classic 12 String
Martin D-15M Acoustic
Ibanez AEF-30 Acoustic
Cigano Gypsy-style Acoustic
Music Man Sterling HS
Ibanez SR-505 Yellow 5-string BOC Bass. (with Bartolini pickups)
1975 Rickenbacker 4001 (round wounds)
1974 Rickenbacker 4001s (flat wounds)
Hofner Icon B Beatle Bass
Amps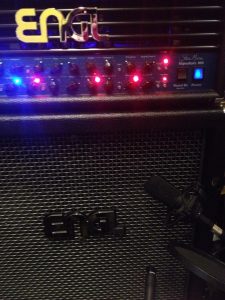 Richie has a small collection of amps, including:
Engl Steve Morse 100
VHT Pitbul Classic 30
VHT 2/50/2 Power Amp
Tube Works TD-752
Vox VBM-1
Preamps & Modelers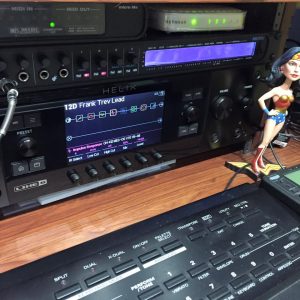 Since the Band Geek studio is a home studio, volume is definitely a concern.  Thankfully, digital modeling technology has finally caught up with analog tech as a viable substitute for low-volume situations.
Richie's main guitar amp for 99% of his recording the the Line 6 Helix Rack. He records both stereo outs and a buffered pass-thru into Pro Tools.
For guest guitarists, the Band Geek studio has a great VHT GP3 Tube Preamp.  This is sent to a Two Notes Torpedo C.A.B. pedal using a custom Impulse Response that Richie created using his Eminence P-50 Equipped 2×12 VHT cabinet. The Torpedo output and a DI send from the GP3 are both recorded into Pro Tools.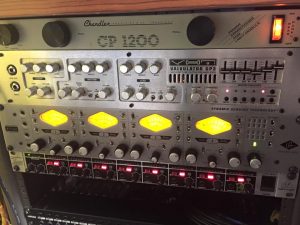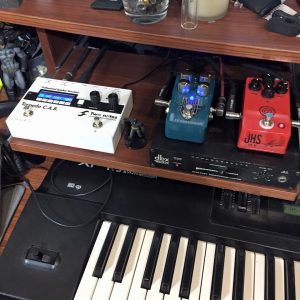 Pedals
Even someone who mainly operates in the digital realm still loves pedals!
Richie keeps a JHS Andy Timmons distortion pedal in Loop 1 of the Helix and a TC Electronic John Petrucci Dreamscape in Loop 2.
When using an analog wah, Richie prefers the Ernie Ball wah. The studio also has a decent collection of Boss Pedals.
Another processor that he uses occasionally is the TC Electronic Nova System.
Other Instruments
Roland TD-11k Electronic Drumset (with CY-13R Ride addition)
Roland HPD-10 Handsonic Percussion Instrument
Roland SH-101 Vintage Analog Synthesizer
Roland XP-10 Keyboard
Roland SP-404SX Sampler
---
Video Production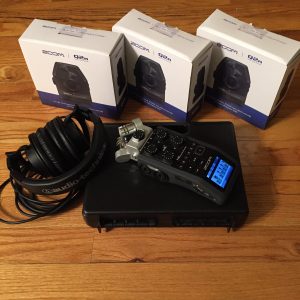 Band Geek videos are recorded with both Zoom Q2n cameras and Logitech c920 webcams. While the Zooms were used to produce many Band Geek videos, they have recently switched to 5 Logitech c920 webcams for recording direct to the computer.  Richie also uses these for his live streams.
The Q2ns still remain a vital part of Richie's portable video recording rig. The portable video recording rig consists of 3 Zoom Q2n cameras, the Zoom H6 multitrack field recorder and occasionally an iPhone for additional video shots.
To edit the videos Richie uses Magix Vegas Pro software.